Matthew B. Harms, MD
Virtual Visits/Telehealth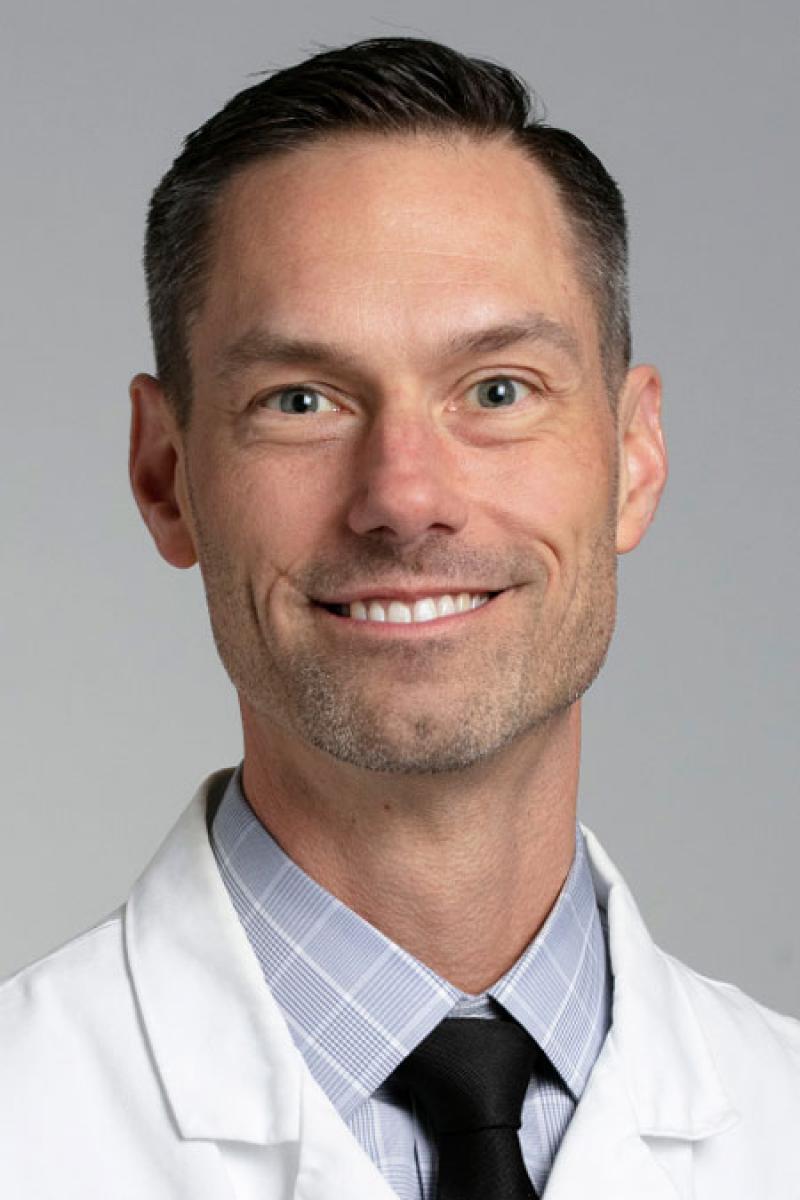 Overview
Matthew Harms, MD is an Associate Professor of Neurology. Dr. Harms received his A.B. in Biology summa cum laude from Harvard University in 1997, and his medical doctorate from the University of California San Francisco in 2003. He remained at San Francisco for neurology residency and served as Chief Resident in his final year. Dr. Harms completed neuromuscular medicine and clinical neurophysiology fellowships under the mentorship of Dr. Alan Pestronk at Washington University in St. Louis. His clinical training in neuromuscular diseases led him into the laboratory of Dr. Robert Baloh, where his post-doctoral research identified the genes responsible for two orphan human diseases- dominant spinal muscular atrophy with lower extremity predominance and limb-girdle muscular dystrophy type 1D.
Dr. Harms joined the neuromuscular medicine faculty at Washington University in 2009 with board certifications in neurology, clinical neurophysiology, and neuromuscular medicine. In 2011, Dr. Harms assumed leadership of the Washington University Neuromuscular Genetics Project and established his research laboratory to continue harnessing emerging genetic technologies to understand the causes of inherited neuromuscular diseases. The lab focuses on diseases of the motor neuron, including amyotrophic lateral sclerosis, spinal muscular atrophy, and the hereditary motor neuropathies, and where his efforts have helped identify more than 5 novel disease genes. Here at Columbia, he will continue these efforts, directing an international multi-site effort using whole genome and transcriptome sequencing to bring precision medicine to amyotrophic lateral sclerosis. His laboratory efforts will occur in both the Motor Neuron Center and the Institute for Genomic Medicine.
Areas of Expertise / Conditions Treated
ALS (Amyotrophic Lateral Sclerosis)
Clinical Research
Lou Gehrig's Disease
Metabolic Myopathy
Mitochondrial Diseases
Muscular Dystrophy
Myofibrillar Myopathy
Myopathy
Peripheral Neuropathy
Academic Appointments
Associate Professor of Neurology
Hospital Affiliations
NewYork-Presbyterian / Columbia University Irving Medical Center
Schedule an Appointment
Virtual Visits/Telehealth
Virtual Visits allow you to connect with your provider from the comfort, convenience, and safety of your own home.
New and Existing Patients:
Connect Patient Portal
For existing patients, login to make an appointment, view documentation or contact your care provider.
Insurance Accepted
For billing questions, please call (212) 342-4432.
Aetna
Aetna Signature Administrators
HMO
Medicare Managed Care
NYP Employee Plan
POS
Student Health
Affinity Health Plan
Essential Plan
Medicaid Managed Care
Cigna
EPO
Great West (National)
POS
PPO
Emblem/GHI
Medicare Managed Care
PPO
Emblem/HIP
ConnectiCare
EPO
Essential Plan
HMO
Medicaid Managed Care
Medicare Managed Care
POS
Select Care (Exchange)
Vytra
Empire Blue Cross/Blue Shield
Empire Blue Cross Blue Shield HealthPlus
Child/Family Health Plus
Essential Plan
Medicaid Managed Care
Fidelis Care
Child/Family Health Plus
Essential Plan
Medicaid Managed Care
Medicare Managed Care
Healthfirst
Child/Family Health Plus
Leaf (Exchange)
Medicaid Managed Care
Medicare Managed Care
MVP Health Care
Child/Family Health Plus
Essential Plan
HMO
Quality Health Management
Quality Health Management
UnitedHealthcare
Empire Plan
HMO
Medicaid (Community Plan)
Medicare Managed Care
POS
*Please contact the provider's office directly to verify that your particular insurance is accepted.
Credentials & Experience
Education & Training
MD, University of California San Francisco School of Medicine
Internship: University of California San Francisco Medical Center
Residency: University of California San Francisco Medical Center
Fellowship: 2008 Barnes Jewish Hospital/Washington University
Fellowship: 2009 Barnes Jewish Hospital
Board Certifications
Clinical Neurophysiology
Neurology
Neuromuscular Medicine
Research
Selected Publications
O'Rourke JG, Bogdanik L, Yanez A, Lall D, Wolf AJ, Muhammad AKMG, Ho R, Carmona S, Vit JP, Zarrow J, Kim K, Bell S, Harms MB, Miller TM, Dangler C, Underhill DM, Goodridge HS, Lutz CM, Baloh RH. C9ORF72 is required for proper machrophage and microglial function in mice. Science. 2016, Mar 18;351(6279):1324-9.
O'Rourke JG, Bogdanik L, Muhammad AK, Gendron TF, Kim KJ, Austin A, Cady J, Liu EY, Zarrow J, Grant S, Ho R, Bell S, Carmona S, Simpkinson M, Lall D, Wu K, Daughrity L, Dickson DW, Harms MB, Petrucelli L, Lee EB, Lutz CM, Baloh RH. C9orf72 BAC Transgenic Mice Display Typical Pathologic Features of ALS/FTD. Neuron. 2015, Dec 2;88(5):892-901.
Cirulli ET, Lasseigne BN, Petrovski S, Sapp PC, Dion PA, Leblond CS, .. Harms MB, et al, Goldstein DB. Exome sequencing in amyotrophic lateral sclerosis identifies risk genes and pathways. Science, 2015, Mar 27,347(6229):1436-41.
*Weihl CC, Baloh RH, Lee Y, Chou TF, Pittman SK, Lopate G, Allred P, Jockel-Balsarotti J, Pestronk A, Harms MB. Targeted sequencing and identification of genetic variants in sporadic inclusion body myositis. Neuromuscul Disord. 2015, Apr;25(4):289-96.
*Cady J, Koval ED, Benitez BA, Zaidman C, Jockel-Balsarotti J, Allred P, Baloh RH, Ravits J, Simpson E, Appel SH, Pestronk A, Goate AM, Miller TM, Cruchaga C, Harms MB. TREM2 variant p.R47H as a risk factor for sporadic amyotrophic lateral sclerosis. JAMA Neurol. 2014, Apr;71(4):449-53.
Johnson JO, Pioro EP, Boehringer A, Chia R, Feit H, Renton AE, Pliner HA, Abramzon Y, Marangi G, Winborn BJ, Gibbs JR, Nalls MA, Morgan S, Shoai M, Hardy J, Pittman A, Orrell RW, Malaspina A, Sidle KC, Fratta P, Harms MB, Baloh RH, Pestronk A, Weihl CC, Rogaeva E, Zinman L, Drory VE, Borghero G, Mora G, Calvo A, Rothstein JD; ITALSGEN Consortium, Drepper C, Sendtner M, Singleton AB, Taylor JP, Cookson MR, Restagno G, Sabatelli M, Bowser R, Chiò A, Traynor BJ. Mutations in the Matrin 3 gene cause familial amyotrophic lateral sclerosis. Nat Neurosci. 2014, May;17(5):664-6.
Lagier-Tourenne C, Baughn M, Rigo F, Sun S, Liu P, Li HR, Jiang J, Watt AT, Chun S, Katz M, Qiu J, Sun Y, Ling SC, Zhu Q, Polymenidou M, Drenner K, Artates JW, McAlonis-Downes M, Markmiller S, Hutt KR, Pizzo DP, Cady J, Harms MB, Baloh RH, Vandenberg SR, Yeo GW, Fu XD, Bennett CF, Cleveland DW, Ravits J. Targeted degradation of sense and antisense C9orf72 RNA foci as therapy for ALS and frontotemporal degeneration. Proc Natl Acad Sci U S A. 2013, Nov 19;110(47):E4530-9.
δHarms M, Benitez BA, Cairns N, Cooper B, Cooper P, Mayo K, Carrell D, Faber K, Williamson J, Bird T, Diaz-Arrastia R, Foroud TM, Boeve BF, Graff-Radford NR, Mayeux R, Chakraverty S, Goate AM, δCruchaga C; NIA-LOAD/NCRAD Family Study Consortium. C9orf72 hexanucleotide repeat expansions in clinical Alzheimer disease. JAMA Neurol. 2013, Jun;70(6):736-41. δAuthors contributed equally.
Harms MB, Neumann D, Benitez BA, Cooper B, Carrell D, Racette BA, Perlmutter JS, Goate A, Cruchaga C. Parkinson disease is not associated with C9ORF72 repeat expansions. Neurobiol Aging. 2013, May;34(5):1519.e1-2. doi:10.1016
Harms MB, Ori-McKenney KM, Scoto M, Tuck EP, Bell S, Ma D, Masi S, Allred P, Al-Lozi M, Reilly MM, Miller LJ, Jani-Acsadi A, Pestronk A, Shy ME, Muntoni F, Vallee RB, Baloh RH. Mutations in the tail domain of DYNC1H1 cause dominant spinal muscular atrophy. Neurology. 2012, May 29;78(22):1714-20.
Hakeda-Suzuki S, Ng J, Tzu J, Dietzl G, Sun Y, Harms M, Nardine T, Luo L, Dickson BJ. Rac function and regulation during Drosophila development. Nature. 2002, Mar 28;416(6879):438-42.
Ng J, Nardine T, Harms M, Tzu J, Goldstein A, Sun Y, Dietzl G, Dickson BJ, Luo L. Rac GTPases control axon growth, guidance and branching. Nature. 2002, Mar 28;416(6879):442-7.